Home | News Feed | Categories
Christmas Sing-Along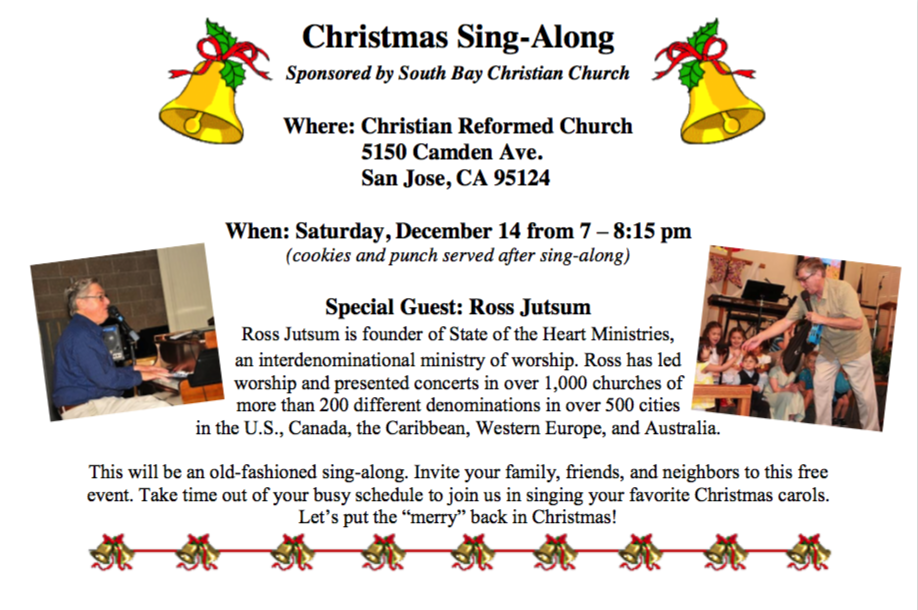 Christmas Sing-Along
Sponsored by South Bay Christian Church
Where: Christian Reformed Church 5150 Camden Ave.
San Jose, CA 95124
When: Saturday, December 14 from 7 – 8:15 pm
(cookies and punch served after sing-along)
Special Guest: Ross Jutsum
Ross Jutsum is founder of State of the Heart Ministries,
an interdenominational ministry of worship. Ross has led worship and presented concerts in over 1,000 churches of more than 200 different denominations in over 500 cities
in the U.S., Canada, the Caribbean, Western Europe, and Australia.
This will be an old-fashioned sing-along. Invite your family, friends, and neighbors to this free event. Take time out of your busy schedule to join us in singing your favorite Christmas carols.Let's put the "merry" back in Christmas!
Filetype: PDF - Size: 0.36MB
Uploaded: 23-11-2019
Categories | Announcements | Bulletins
Tweet